​​Registration for 2018 class is completed.

The Club would like to thank all the Instructors and Field Day volunteers for helping out and making our field a safe and successful event.​​

To find other available classes please consult WDNR website.​
​​​
HUNTER SAFETY
EDUCATION CLASSES
ATV SAFETY
EDUCATION CLASSES
SNOWMOBILE SAFETY
EDUCATION CLASSES
2018 Youth Trap Schedule



​​​ Our 2018 Youth Trap league was completed on Aug. 15th, youth banquet was held on Aug 27th.

​ Thank you to Virlee Gunworks and Lee's Sports for donating door prizes for the banquet.

​All shooters must have Participant Waiver form signed before league shooting.

​​Cost will remain $6 per round, shells and targets.
​​
Look for us on Facebook.
​​


Youth Participant Waiver Form



2018 Top Young Woman​​ Kallie Horkman 21.89 ave.
2018 Top Young Man Jason Stahl 23.13 ave.​ ​​​
Please check WDNR website for available classes. Click on WDNR link on our Home page.

New Franken Sportsmen's Club
Please check WDNR website for information and to register for class.​​​​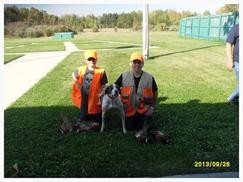 GB Preble High School Trap Team


GB Notre Dame High School

Trap Team ​
This is the 3rd year for our high school trap league. Practice starts April 2nd. Wish them luck!